My first clue should have been the way the Assistant Principal immediately recognized me. She turned around from her seat in the first row and smiled, "I just have to tell you about what Juliet said." My oldest daughter is in pre-k at the local elementary school. We were there for the Christmas extravaganza.
For a split second I was surprised that she knew who I was. I am at work the whole time Juliet is at school. It could have been I was sitting next to my husband, who is around more often. It could have been because my daughter mentioned me recently. Yes, it could have been these things. But more likely it was because my child is the only white kid in  her pre-k class. I'm one of three white moms in the entire school.
The  assistant principal started shaking her head jovially, "That Juliet, I was in her class to observe her teacher and she said to me, 'I am SO CUTE.' So I told her, 'I am so cute too!' And then she looked at me and said, 'AND! I am WHITE!' So I told her, 'Well I am cute and brown!'"
I chuckled with the woman at the audacity of my oldest. But inside I was cringing a little. My daughter had recently began talking about her whiteness with me. A few weeks earlier, in the kitchen baking cookies Juliet had noticed the flour I had spilled on the counter. "Hey mom, that flour is white." "Yes, yes it is." "And us too," she continued. "Hmm?" I responded, not wanting to lead the conversation." "Mom, we are white."
This was not news to me. I know I am white, and I know my kids are white. We live in a predominantly black neighborhood, and for a period of time my husband and I were both teaching at schools that were almost exclusively black. For a white woman, I have spent a lot of time thinking about race. But there, in the kitchen with the spilled flour, I had no idea where we were going with this conversation, so before I handed my four year old a copy of Why Do All the Black Kids Sit Together in the Cafeteria, I thought I would ask her what she already knew.
As casually as possible I asked her, "What do you think that means?" She sighed, exasperated at the question. She pushed her sleeve up and pointed at her arm. "Like this mom" she then pointed at my arm. "You got this too."
Indeed I did have this, have whiteness. I was still trying to figure out exactly what to tell Juliet about our white skin when it was mentioned in my kitchen. Though I don't want her to be ashamed of her race, it is a historical fact that white people have often been the oppressor. The basic understanding I tried to give her of Martin Luther King brought that to the forefront pretty quickly. I also did not want to feed her exclusively stories about white people as the freedom giver. I spent my first three years as a teacher unlearning that story myself. I had tried to find some age appropriate books about whiteness and found only books published by the KKK. I couldn't be the only one dealing with this, could I?
I was pondering all of this again when the lights dimmed and the curtains came up on the elementary school Christmas extravaganza. I sat awestruck and delighted as each group performed. But I was also, often, a little confused. While I recognized the words and music to most of the classic Christmas songs, I was not familiar with any of the versions. My daughter danced to Santa Claus is coming to town sung by The Jackson Five, not Bing Crosby like I am used to. When the beat dropped on the hip hop version of the Sugar Plumb Fairies, the whole audience erupted. I too was delighted, but the explosion of cheers freaked me out a little. I just didn't know that was a thing you did at a kids' assembly.
The unfamiliarity of the whole thing, coupled with the conversation I had before the show began, left me feeling alone and confused in an environment I had anticipated being familiar. The cues I knew from my own experiences were missing, and the ones in their place I had difficulty understanding. It was a little lonely, being the only white parents in the room.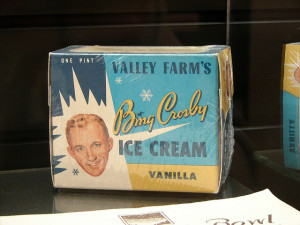 After the show I collected Juliet from behind the stage. I told her what a good job she did, just like every other mom there. She introduced me to all the other kids by name (or just asked them when she forgot). She started each introduction with, "This is my friend…." She hugged her friends goodbye so much I had to bribe her with ice cream to get her out of there. We thanked the teachers and she walked backward out the door, waving and smiling. She loves it at her school, and she really loved that night.
Juliet knows she is white, but she also knows she belongs. I was reminded of the truth that was, even if it didn't quite feel like it: We weren't alone; we were welcomed.
* * * * *
Abby lives and loves in the city of Atlanta. She swears a lot more than you would think for a public school teacher and mother of two under three. She can't help that she loves all words. She believes in champagne for celebrating everyday life, laughing until her stomach hurts and telling the truth, even when it is hard, maybe especially then. You can find her blogging at accidentaldevotional and tweeting at @accidentaldevo. Abby loves all kinds of Girl Scout cookies and literally burning lies in her backyard fire pit.
Bing Ice Cream photo by Richard Lemarchand.