I stood with the bottle in front of me, corkscrew in hand. The note on the bottle, written in my own handwriting, told me that it was "not to be opened before May 22, 2015." I cut the foil, and slowly rotated my key into the cork.
Five years prior, I was getting ready to leave a job at a local winery as the summer waned. It was my first post-college job, the answer to the question about "what I was going to do" after graduation. I attended a small conservative Christian college, and I got quite a few raised eyebrows when I said: "I'm going into the wine business."
The long hours and the free wine created an experience I will never forget, but not a sustainable one. My career in the wine business was short.
As I worked my way through the summer, getting more comfortable with our wine offerings and going tasting with co-workers on the weekends, I noticed that my sense of smell was heightened. On evening walks, I could smell subtle flowers and herbs. I was overwhelmed by the smell of laundry. I could sense the faintest hint of smoke in the air.
That summer, I went on a few dates with someone new. I'd always fallen into relationships somehow, skipping the first few steps of courtship. When he asked me to dinner, it was my first real first date. He came to pick me up and we walked a little ways to a restaurant not far from my parent's home. We sat on the patio and talked and laughed without looking at the menu. I kept smiling apologetically at our server, but if he was frustrated with our indecision, it didn't show. Finally, we ordered a bottle of wine.
It was a Washington Syrah, smooth and supple. I hadn't yet learned then that when I drink wine, I like to eschew the hard edges. I look for something silky that touches my tongue tenderly without a trail of tannins. This was one of the wines that taught me that, one sip at a time. That Syrah is still in my top ten wine experiences.
During my summer of wine, I looked for a way to commemorate the momentous nature of that season. I decided to buy a bottle of wine to store for five years, opening it near the anniversary of college graduation. I consulted my wine stylist, a person I still keep on speed dial, a local wine whiz who occasionally chills bottles for me when I text him so that I can pick them up later. He suggested that a Syrah would hold up well over time. Washington is known for her Syrahs and it seemed the perfect choice, something that would remind me of lunch breaks in the vineyards and my swirling glass in the evening after I got off work, paired with oyster crackers.
When my wine stylist suggested that particular varietal, I knew that I would buy the same vintage as that first date. I wrote the date it was to be opened on a yellow sticky note in the shape of a star before covering it in tape.
That bottle followed me from my parents house to the light-filled one I rented with a purple-painted porch. Every time I went to find something to open, for a date or dinner with friends, I noticed that gently sloped bottle, designed for Syrah. It lay in my wine rack, surrounded by bottles of table wine, Perrier, and other special bottles, waiting for its moment. Though new jobs, publications, relationships and breakups tempted me, I never reached for my corkscrew.
This May, I brought the bottle back to my parents' house and my mother and I made bruschetta from fresh tomatoes and basil. I opened the wine to let it breathe and immediately, I recognized the scent, my nose still sensitive to all of those stimuli. The wine had mellowed over time, but there was no mistaking it. Even though that restaurant has closed and reopened twice under different names, I was back on that patio with my cardigan draped over the back of my chair. I was hopeful about post-college relationships and jobs and life.
I poured myself a glass, a little nervous that five years was too much after all, that this wine was history. One sip was all I needed to realize that the future Syrah was not ruined, as I had feared. She had not passed her prime sometime in the midst of those years. In fact, she was smoother than I remembered.
***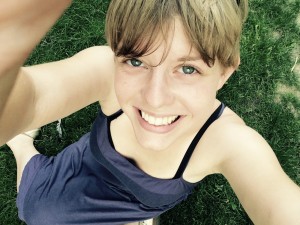 Cara Strickland is a freelance writer living in Spokane, WA. She writes about food, faith, singleness and relationships for a variety of publications in print and online.
She's delighted that her current career allows her to drink wine (and write about it).