I have the full lips of a good Cuban woman, wide hips that twitch at the sound of a Latin beat. I am red hot passionate, with an eyes-flashing, arms-waving temper. The sea is the only place I feel blood-rushing peace.
Yes, Cuba is inside me, whether I like it or not.
We flew through the skies one late July night. Surrounded by lightning and carried by turbulence, our entire California family landed in Miami well past bedtime. It was a journey of cultural homecoming for some in our group, and a first exposure for the rest of us. There in our two-star motel with its questionable swimming pool and a not-great view of the beach, I first understood just how wide are the borders of Cuban familia. We welcomed a parade of relatives, long ago friends, and friends of friends–categories that might as well cease to exist at the table a Cuban abuelita. Familia is familia. Everyone's in.
Two weeks of all-day swimsuits and every morning breakfasts at IHOP are a blur in my memory now. I was only nine-years-old and not sure what to make of this place so different than my white-bred, dry-heat California hometown.
One half of a morning stands out in importance and recollection, however. After travelling to Key West, we found ourselves staring into the leaves of the southernmost tree. When a black cat darted from behind a bush, my cousin joked, "There goes the southernmost cat." Just ahead of us stood a chain-linked fence, with the wide waters of the Atlantic splashing on the rocks below.
Attached near the top of the fence, a sign reads: 90 Miles to Cuba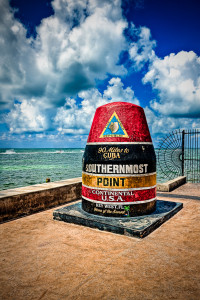 This is what we came to see, and so we stood silent for a moment. My dad slung his arm around his sister's shoulders and she smiled through her tears. Thirty-ish years back and ninety miles south–that's how far away their minds traveled in those few minutes. As children and with no notice, they left their island home with their parents, abandoning memories, dear friends, all the treasures of their childhood.
While the grown-ups reminisced in choked-up Espanol, my cousins and I, along with my little brother and sister, ran wild in a game of tag, hopping on and off large rocks that topped the cliff we were gathered on. Laughing and running, we blinked our eyes at the Florida sun with our feet pounding the ground of freedom that has always spread beneath us.
When I was sure no one was looking, I strained my eyes out over the forever expanse of water, searching for a piece of driftwood or the black ridges of a tire, signs of a refugee almost to shore. These were the stories I'd grown up with, stories of desperation and hope. Sometimes they made it. Sometimes they were picked up by the Coast Guard. Sometimes they sank.
Standing at the edge of our country, I felt like I was at the edge of something else, but as I was only a little girl, I couldn't put my finger on what it was exactly.  I was overwhelmed. The gratitude I was supposed to feel, the imaginings of a childhood built with the brick and mortar of communism, language barriers so steep I feared I'd never break them apart, the constant volume and prattle of all these people who shared my blood, or at least a piece of my history, it was just too much.
Frankly, these Cubans of mine were too much.
We shared a gene pool, but we didn't fit together easily. So when my dad walked out the door a few years after our Florida trip, filing for divorce and affirming all the discord I'd sensed, I erased them, mi familia, and Cuba itself from my very identity. 90 miles was too far to go.
But roots pull and roots dig.
All grown up now, I see it all with gentler eyes. As a wife and mother, I look at my babies and my husband and I see the dark eyes of my Abuelita. I wonder at the cost of her sacrifices, I wonder what it does to a woman to leave the way she did, to gather her children and pray that a far away land will be the answer she's hoping for. I think of my dad's childhood memories, and then I dream of sugar cane fields and a baseball soaring high above them, the exultant cries of a passel of Cuban boys.
I wince when I think of guns, suitcases, desperation and my dad as a skinny boy with enormous ears standing with his big sister decked in a white dress, helpless. I lose my breath when I think of my freedom-loving Papi in a cell all those times, his dream of a free Cuba still breathing, but losing color.
My heart edges close to what it all means, and sometimes that's as far as it can go. But every now and then I stand in that place long enough to see the big picture–the mistakes, the desperate shots in the dark, the guts and the fear, the stubborn hope.
I know now that the edge I felt all those years ago was the edge of loss and anger, language barriers and picking sides. It was the sharp shatter of family, connection. It was me, trying to keep hearts safe and the coming realization that I can't.
As I turn my gentler eyes on this this cast of characters in a complicated and sometimes devastating tale of a fully Cuban, fully American family, it is so clear that we all have scars of place and relationship. These Cubans of mine, and me. And if they are mine, and they indisputably are, then I am theirs and their Cuba lives inside me too. 90 miles is closer than I ever could have imagined.
Maybe in learning to make peace with a memory, I've learned to love a place and a people that I can't escape. And the truth is, I don't want to escape it or them anymore. What I want is to  step beyond that chain link fence, to slice through the self-imposed invisible line between here and there. I want my heart to cross the Atlantic and finally say, "Estoy aqui y te amo."
I'm here and I love you.
* * * * *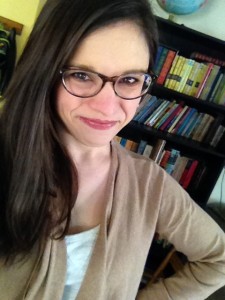 Bio: Sarah Torna Roberts is a writer who lives in California with her husband and four sons. She blogs at www.sarahtornaroberts.com where she digs around her in her memories, records her present, and is constantly holding her faith up to the light. She snacks at 2 AM with great regularity, is highly suspicious of anyone who doesn't love baseball (Go Giants!), and would happily live in a tent by the sea.
90 Miles.jpg is a photo by Kay Gaensler, available for public use.