Our destination was Toronto, straight north, about four hours, all highway driving. We were traveling to celebrate the union of two beautiful friends who would be wedded on the winter equinox. After the wedding, we would spend the night in Niagara so that I could see the falls for the first time.
But we never made it. We didn't even get close. Barely out of Allegheny County, a tractor trailer truck merged into our Subaru Impreza. The police report would estimate that upon impact our car traveled 90 yards, almost the full length of a football field.
When we landed, I looked myself over. Somehow I was fine–not a single scratch I turned to the driver's side where my wife sat.  She was not fine. The roof had compacted in upon impact, cutting her head. Blood, mixed with glass bits from the windshield, covered her face. She was conscious.
She was worrying about me.
Straddling the road's shoulder and a grassy embankment, our car faced outward and I watched, terrified, as headlights from passing vehicles whizzed by. The ignition key remained in place but we were going nowhere. The front of our car had crumpled up liked a used soda pop can. The back and side windows were completely blown out. Far away from city lights it was dark and damp. The flashers hummed in the background: Tick, tick, Tick, tick.
I fumbled for my cellphone in the breast pocket of my coat, but before I could reach it, a Good Samaritan arrived, "Are you okay?"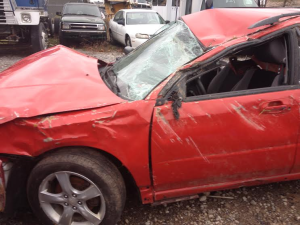 "Please," I begged. "Please, call 911. Now."
Taking off my downy brown winter coat, I used its sleeve to apply pressure to my wife's head and draped the rest over her body. She was shivering from the shock and the chill of the night air. I didn't notice the cold or the rain seeping through my thin gray cotton shirt.
I tried to remain calm, but my tears falling silently onto her face gave me away. Fighting the growing panic, I forced myself to focus. I reassured my wife, "It's going to be okay honey. The paramedics will be here soon. Stay with me. Don't leave me."
Where was that ambulance? Why weren't they here yet? What if they can't find us? Taking a deep breath in and silently beseeching God to make an ambulance appear, I continued to hold pressure.
Finally, flashing red and blue lights approached us. My breath froze as I let out a deep sigh of relief, and  the paramedics  hurried to our car. Shouldering me aside they worked to remove my wife. I stepped aside.
On the side of Route 79-N in the wet grass and mud, my black and white converse sneakers squelched as I walked over to the stoic Butler County police officer.  I thought it odd that he didn't offer me a blanket, jacket, or to sit in his car, while he rained down questions:
"Were you wearing seatbelts? How many people were in the car? Names? Ages? Is that your sister? What happened? Did the driver stop? What color was the truck? Did you see the license plate? Where did the truck hit you? How many times did you roll? How fast were you going? Did the driver see you?
Laying on a stretcher my wife was loaded into the back of the ambulance. I sat in the front. Fearful of being hit again, I turned my eyes away from the dark slick road and watched while the paramedics worked on my wife: cutting away her shirt, listening to her heart and lungs as she laid shivering and immobilized. An IV was inserted into a petite arm vein, a bag of fluids hanging overhead. No longer able to keep my fear at bay, my tears erupted and I sobbed for the rest of the drive. We returned to our city.
When we arrived, the paramedic went to wheel my wife in, "What about you? Do you need to be checked out?" he asked. "No," I replied, but my wife cut me off, "Yes! She needs to be seen. She's six weeks pregnant."
Pregnant. Earlier that day, we were at a different hospital completing my six-week ultrasound. The printout of our baby was in my wife's workbag. We were waiting to share the news with our families until Christmas, only five days away. We were elated. I had bought coffee mugs that read, "World's Greatest Grandparents," as a creative way to break our wonderful news.
Twelve hours after we arrived at the hospital, I told my mom the news in the hospital cafeteria among the sterile white walls, plastic trays, tasteless cardboard eggs, and a pint-sized carton of chocolate milk while we waited for my wife to get out of surgery. Despite my dirty blood-stained shirt, my mother engulfed me in a warm hug and we both smiled for the first time since her arrival.
My mother-in-law found out several days later. Combing through our things that had been salvaged from the accident, "What's this?" she innocently asked holding up the ultrasound picture.
That ultrasound picture was our savior, a reminder of better things to come. A symbol of growth, love, and resiliency. During the weeks of recovery we would sit together and gaze at that black and white watermarked ultrasound picture, our hands resting lightly on my stomach.
In addition to the head laceration, my wife had broken her neck. The margin of difference between having full mobility and being paralyzed was less than a quarter of an inch. A quarter of an inch, in late December, just out of Allegheny County, that lay between a devastating loss and an abundant family of three. A quarter inch that changed the direction of my life and gave me new appreciation for every mile.
* * * * *
"December 20, 2013" was written by Kristen Stepanczuk. Kristen lives in Pittsburgh, PA where she is a licensed professional counselor and coach, and an aspiring writer, storyteller, and speaker. She loves to help and connect with others, and has made it her life's mission to help women live healthy, happy, and balanced lives. Kristen counsels and coaches both locally and nationally. Additional information can be found on her website www.PittsburghHealthCoach.com.