A story about looking for love when you're traveling.
"I guess I'm still trying to figure it out," he says in reply to my question a few minutes earlier.
I put my phone back under my pillow, trying to think about what to say. It was after 2AM in Antigua, Guatemala, a tourist town a few hours away from the city in the mountains where I had been living for the past eight months.
A year ago, I had
nothing to lose. No job, no apartment, no relationship to leave behind. So when I was offered a teaching job in western Guatemala, I said "yes". I imagined myself being free and independent, ready to take on the world. But when I found myself in a place where my primary dating requirement was "guy who speaks English", the internet became my connection to the outside world.
So when I woke up one morning to find a message in my inbox, I was intrigued.
It's funny how quickly a new possibility can begin to consume my thoughts. This is usually the time when I start pushing away, afraid of letting myself be overtaken by someone who I have never even met. I start imposing rules, censoring words, allowing weeks to pass between short conversations.
In this moment, I realize that I'm scared.
I'm scared of never settling, of never figuring it out, of never getting it right. I'm scared of being irresponsible, of wasting my life away. I'm scared of the people who talk about me behind closed doors, saying "she could have been so much more."
I'm afraid of allowing myself to love someone who doesn't have it figured out either. Not because I expect perfection, but because when I look at someone else and see my own faults reflected in him, I see a relationship built with toothpicks and glue. I'm looking for someone else to hold it all together. I need him to be stronger than I am.
After all, I have tried that before. I have waded through the months of confusion that come from dating someone who is deeply uncertain about everything. Once I return to the United States, still without a job or a real life of my own, I'm afraid that person will be me.
So I want to tell him the truth, I want to tell him that I don't have it figured out. I want to tell him:
Don't get too close, I'm dangerous.
Don't get too close, because I'm broken.
Don't get too close, because I don't have it figured out.
Don't get too close, because I might leave.
How do people do this, I wonder? How can we allow someone else to hurt us, or to be hurt by us? When we're all stumbling around blindly, making mistakes and trying to "find ourselves", everyone is a risky commitment.
I wanted to roll over and ignore the message in my inbox, but as I lay there, staring at the ceiling, I had an idea. "Maybe relationships require us to change," I said. "Maybe we need to find someone good, and then figure it out together."
"Maybe so, but I'm still not there yet," the realist replied.
It was a relief in some way, knowing we both told the truth. But still, we are stuck in the stalemate of I live here and you live there and I want this now, but I might want something else tomorrow. Giving someone else permission to change us doesn't come easily, but I think it's the only way out.
The desire to leave is a powerful feeling. That desire to leave brought me to Guatemala, and it became like a thread that stretched for thousands of miles, connecting me to another person with the same desire. Love, however, comes not from a desire to leave, but from a decision to stay.
Maybe this isn't happily ever after. A leap of faith can't fix everything, nor can a plane ticket bring two people closer together whose ambitions might be miles apart. But someday, everything will change. Someday I will say let's figure this out together. We can fix what's broken. And if you leave, I'm leaving with you.
I don't know who I will be saying this to, but God, if you're listening, I have a suggestion.
* * * * *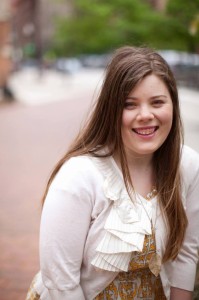 Becca is a teacher who has discovered writing as a cheaper form of therapy. Originally from Chicago, she spent the past year living and working in the town of Xela, Guatemala, where her hobbies included squeezing onto tiny, overcrowded busses, reading in the park, and smiling and nodding when people spoke Spanish much too quickly. She blogs at beccanelsonwrites.com, where she is passionately spreading the word that it's okay to fail. You can also follow her on twitter @beccaliz.