There is a man named Jim I see from time to time, shuffling down the sidewalk outside of our house on James Street, always carrying his laundry bag over his shoulder. He's very soft around the middle, with gray hair and a few missing teeth. I don't know if it's his severe underbite or the simpleness in his eyes, but he has the smile of a child.
I always say hello and ask him where he's going. He always has the same reply.
"It's good to see you…now what was yo' name? Shawn, that's wight. I'm on my way to do my lawn-dwee. Wemembah? I just finished school last week and now I have a deg-wee in Psychowogy."
We stand out in the cold and chat for a bit, then he swings his laundry bag over his shoulder and heads down the road, shuffling side to side.
* * * * *
A few weeks ago, at around 8pm, our doorbell rang. This is normal, not because we get a lot of nighttime visitors, but because our doorbell rings randomly, even when no one is there. Our next door neighbor passed away about a year ago, so when the doorbell rings at night I usually shout, "Paul's ghost would like to come in."
Even so, I still check to see if anyone is actually there.
And on that cold January night a few weeks ago, someone was there. It was Jim. He was bundled up and his eyes were watering from the freezing cold wind and he had his laundry bag over his shoulder.
"Hey, Jim," I said. "How are you?"
"I'm good, I'm good," he said. "Do you have a compootah I can use?"
* * * * *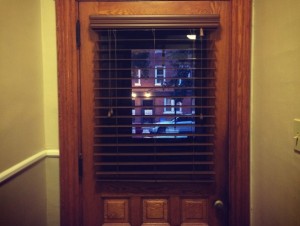 I should interrupt this story to let you know I am not naturally a friendly person, especially when someone attempts to interrupt my normal routine. I'm not saying this to dissuade you from saying hello – I am cordial, after all. And I'm not mean, but I'd rather not be bothered. I try not to impose on people and I have an expectation that others not impose on me.
I'm working hard to overcome this.
I should also say that 8pm is the witching hour here at the house. We have five children, and it's about that time when my wife and I are reminding them to get a bedtime snack, brush teeth, take showers, put on pajamas, DID YOU REMEMBER TO BRUSH YOUR TEETH?, and go to bed.
When I saw Jim standing there, I had the same feeling I had when a neighbor I hadn't met asked me to take her two pitbulls for a walk. I knew I should say yes, I knew I should welcome him in, but I just didn't feel like it.
* * * * *
I sighed.
"Sure, come on in, Jim."
He walked in behind me and we went into the dining room. My computer was already there at the table where I had been trying to get some work done earlier in the day.
"What do you need?" I asked him.
"I'm fiwing out an appwication to work at Weis Mawkets," he said. "But I don't have a compootah. I always use the cowege compootahs."
"Can't you just go to the store and fill out an application?"
He shrugged. We called the supermarket. The only way to apply for a job is to fill out an online application. So we began. We didn't get far.
"What's your email address?" I asked Jim.
"I don't have one."
"You don't have an email address?" I asked. I could hear my wife upstairs trying to get the kids in bed, something that is usually my job. She's spends all day with them, and I know she appreciates when I can take over at night. This entire process was becoming more and more of an inconvenience.
"I do when I'm at school, but I can't use those compootahs right now."
We sat there staring blankly at the screen for a minute. He sighed.
"Just skip that part," he said.
"You can't skip it," I said, kind of annoyed. "That's how they're going to get in touch with you to tell you whether or not you got the job."
We sat there for a few more minutes.
"Can you put your email address in?" he asked me.
"Yeah, okay," I said.
We spent the next hour filling out the application, trying to remember the address of where he worked two jobs ago, trying to think up various people he could use as referrals. We filled out the online job profile, answering a hundred questions about how he viewed theft, authority, and honesty.
Finally, we finished.
"Thank you, thank you," he said over and over again, and I walked him to the door.
He's a nice man. I know he'd be a hard worker, and I know he needs the money. His current, part-time job at $8.50 an hour makes it pretty much impossible for him to live a self-sufficient life. I really hoped he would get the job.
I watched him vanish into the cold night, and I knew I had done the right thing. I just wish it came easier. I wish I had a better attitude about it. I wish my initial response wasn't to label people as "inconvenience."
* * * * *
A few weeks later, I received the following email:
Dear Jim,
Thank you for taking the time to apply with Weis Markets for the position of Cashier.  At this time, we have chosen to pursue other candidates that more closely fit the position. We wish you the best in your employment search and future endeavors.
Respectfully,
Weis Markets Human Resources  
*****