The reasons we chose the church weren't particularly flattering. It was close, under five minutes from our house if traffic was favorable. They had a pretty thin looking praise team, so if they'd have us, we would both be able to play. The pastor seemed nice and the sermons didn't strain my liberal sensitivities too hard. And it was relatively anonymous, so we didn't feel the scarlet A's branding us every time we entered the sanctuary.
We were married now, but that hadn't always been the case. We had attended church together for five years, but in the before days, we had been married to other people, and lots of people in the church community of our town knew it.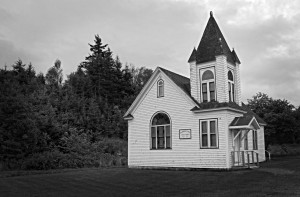 In my previous life, when I had changed churches, I always knew immediately when I found my new church home. In those instances, there was a simple feeling of belonging. Even if it hadn't made sense to me why I felt that way, I could tell when a new congregation was home.
But I didn't have that feeling here.
I told my husband I'd probably feel more at home when I started serving in the congregation. I told him that when I was giving something of myself to the church, I would get that feeling of belonging. It wouldn't just be the church that I went to, but it would become my church.
We never wanted our past to come to the surface and catch the leadership of the church unawares, so we had lunch with the pastors, one of us gripping the leg of the other who was telling their part of the story, trying to send strength to each other through leg compressions. Grace was extended, and we were invited to join the team of musicians. We had our first rehearsal with the team. We played our first Sunday, almost a year to the day from the last time we had played together, and it was a joy-filled experience. Everything was coming together in the best possible way.
And still the feeling of "home" evaded me.
I didn't know what was wrong with me. What was holding me back from experiencing that sense of belonging in this place where we had been shown so much grace and love? Why couldn't I feel at home when I was being embraced by those I worshiped with each week?
I turned these questions over in my mind and realized that the only thing holding me back was me. I didn't feel at home because I wasn't allowing myself to feel at home.
In my mind, I heard the voices that had told me I wasn't welcome in church any more. Heard the voices that told me that I was a distraction. Heard the voices that told me that I didn't belong.
Instead of seeing the ways we were being accepted, I kept expecting rejection. I waited for the shame I felt to be reflected back in the words or actions of others. I listened to the voices in my head instead of the voices of those right in front of me.
I wanted to feel at home, so I made a different choice.
When the voices in my head started telling me that I didn't belong, I started looking for the ways that my church was helping me to belong. I thought about parking lot conversations after services. I thought about late night dinners at Burger King. I thought about hugs offered when we explained why the baby dedication service was too painful for us to attend. I thought of all of the ways that the church I was attending was becoming my church.
And it finally felt like home.
 *   *   *   *   *
"Home Church" was written by Alise Chaffins. Alise is a wife, a mother, an eater of soup, and a lover of Oxford commas. You can generally find her sitting behind a keyboard of some kind: playing or teaching the piano, writing at her laptop, or texting her friends a random movie quote. Alise lives in West Virginia and blogs at knittingsoul.com