I crouched in the grass, twisting at an unnatural angle. I was trying to capture the texture of the line of bridesmaid dresses up close. I looked up for a moment, taking in the bridesmaids' up-dos and powdered cheeks. Their eyes were on the main photographer Vanessa, who I spent three summers shooting weddings alongside. She told prospective brides that we were a good team because she saw the big picture and I focused on the details.
I've always loved weddings. In middle and high school, I was the pseudo little sister to several newly affianced women. I attended cake tastings, and helped pick out (and assemble) invitations.
Later, when my friends started getting married, I made sure to insert myself into the conversations early, sometimes bearing bridal magazines. Although I'd never have admitted it, I wanted to be a bridesmaid. I wanted a central role at a wedding, one where I was chosen.
Actually, I was a bridesmaid once. My mom's birth-dad married his third wife and they chose their grandchildren for attendants. At 13, I was the oldest member of the bridal party, yet my title was Junior Bridesmaid. I was greatly disturbed by the "Junior."
My dress was periwinkle blue with cap sleeves, and I wore ivory shoes with little pearl beads on the velcro buckles. On the day of the wedding, we all went to get our hair done. It was the first time I had been in a salon. My feet swung high above the floor in the stylist's chair. She began to curl my hair in ringlets, as if I were getting ready for a dance recital. I wondered if the burning sensation at the top of my head was normal. The stylist was chatting with my grandmother-ish-to-be as she worked her way across my head.
At last, I couldn't stand the pain any more. "Excuse me," I said in a small voice. "I think I'm burning."
"Oh no," she said, quickly uncurling her iron. I began to feel relief, along with a dull throbbing, but I couldn't quite relax into that chair again.
The centerpiece of that wedding was a sort-of-cousin who delighted the congregation by performing an interpretive dance during the ceremony.
Many years have passed between that little girl in the periwinkle dress and the person I am today. Still, it's the only bridesmaid dress I've ever worn. It's still the closest I've been to a wedding.
As I got older, I found that weddings turned from a day of gaiety and celebration, to one of pressure and stress. I began to accept invitations based on the presence of an open bar. I learned to dread the secret looks between the members of the wedding party, and between the bride and groom. It was as if I was always just on the outside of a secret intimacy, regardless of my closeness to the bride or groom in other circumstances.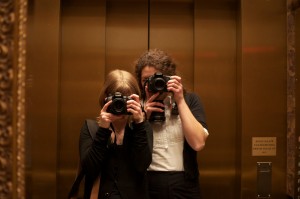 So I put a camera between myself and the action. With my credentials as a second photographer, I could roam the wedding at will. I was there during the tearful champagne toast just before the bride climbed into her dress. I was there the first time a proud father saw his grown up daughter as a bride. I caught the maid of honor as she squeezed the bride's hand, and watched the groomsmen take shots of tequila before the ceremony.
No one batted an eye as I sidled up to the cake, taking in its layers and leaning in for a close-up. No one challenged me as I climbed to a high balcony to better capture the first kiss. It could have been my wedding uniform: I always wore black, on duty. But I prefer to think that I had achieved my goal at last. I no longer stuck out. I belonged.
 *   *   *   *   *
"Never a Bridesmaid" was written by Cara Strickland. Cara has lived in San Diego, California, London, England, and Upland, Indiana. Once, in college, she wrote an essay saying that she was from Narnia. She currently lives in Spokane, WA, where she is a writer, blogger, editor, and food critic. She almost always finds a way to write about food.