I'm no purist. As soon as the temperature dips below 90—usually mid-October in this part of Texas—I start pouring eggnog into my coffee. This may be one of few truly habitual morning routines I have. By design, I resist routine in the mornings. I have never been the sort of person that wakes the same time, has the same breakfast, has the same commute. I don't find this to be noble. I have tried with limited success to become that sort of disciplined person, anchored in morning ritual and liturgy of coffee cup and toast point and made bed. I manage for a few days, at most, and then the resolve slips away from me and I'm back to a disordered sense of morning duty, careening from grocer to writing to recycle bin to conference call.
But eggnog in the coffee cup, that point in October when it becomes justified, slows me down just enough. I catch myself getting still, hearing my breath, the way the brick of the apartment whistles when wind cuts across it, the feel of the cement beneath bare feet. I sit across from the windows that keep watch with the sunrise and pull out the notebook, forgotten too often during the late season of summer, where pen is set to craft recipe, reason out flavor, and I plan a menu for the week. I get still enough to be mindful, yet again, of Alexander Schmemann's speculation that no matter how utilitarian we have managed to make everything else, food remains something sacred to us, something that cannot be pure utility. There is reverence in the wielded knife and the butchered lamb, a kind of sacrament of patience in the warm of the midday loaf set on the windowsill to rise.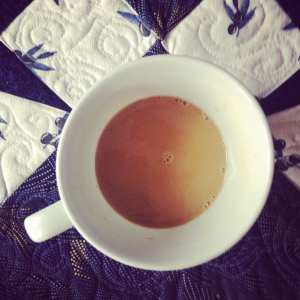 Eggnog in the coffee cup returns me to this practice of noticing, attending to the detailed work of craft. I am no hater of technology, no scorner of social media, but in the brevity of the early morning pause, the breviary of an ordinary life, I disconnect just long enough to be mindful. Mindfulness is an underrated virtue. It doesn't boast a great deal of acclaim. But mindfulness keeps us observant of ourselves and of the spaces we inhabit, keeps us intentional and keeps us kind. When I pause long enough to be careful, I am reminded of the miracle that it is to live, to taste, to smell, to make. We are alchemists of invitation and acceptance in our kitchens. We present common sacrament upon our tables. We offer chairs as signs of worth. We prepare tables as icons of welcome.
All this from eggnog in the coffee cup. Just enough of a pause in the waking hour, when the sun first colors the skyline, to remember the good work of being present, being focused, being exactly where I am. This is a ritual I can return to, when all else about routine fails. Clasped coffee cup tinged with sweetness, this takes me back to the center, to the contentment of the very moment.
*   *   *   *   *
"On mornings, intention, and getting still enough" was written by Preston Yancey. Preston is an Anglican priest-in-training, an author, sometimes-painter, sometimes-baker, sometimes-scholar interested in Christian theology and the arts. He wrote Tables in the Wilderness, a book about God and silence, and lives with his wife, Hilary, in Waco, Texas.