A small creek ran through our neighborhood of manicured lawns and look-alike condominiums. Thick walls of gray rock under wire-mesh netting sat on either side of the water's edge, containing it, keeping all things wet and wild within its borders. When I was a child, I loved to explore there. I loved to escape the stale air-conditioned spaces of our two-bedroom unit and feel the submerged rocks, slick with algae, slip under my feet.
We creek-walked in the shallow places, but the water grew deep near the neck of the small woods bordering the development. There, the neighborhood kids and I spent hours sitting on thick rocks jutting out of the water watching sunfish and crayfish and water striders scuttle by. "The Woods" became the backdrop for every summer day adventure and autumn walk. In the safety and sameness of our suburbia, we were brothers and sisters, sons and daughters, friends and neighbors. In The Woods, we became adventurers and curiosity seekers. We were kings and queens, intrepid explorers, the heroes and heroines of our own stories. We became hosts to the wild inside and out.
As a child, The Woods and the creek gave me worlds to explore. My stomach turned somersaults every time I stepped into the dappled depths of the wooded paths, because I sensed it belonged to a world I could never fully understand. The water and the whispering trees sang a song of freedom to us in an ancient, unknown language. At home I worried about getting things right, in The Woods I just listened to the murmurs, no translation necessary.
As I entered my teens, The Woods no longer lured me in as they did before. I chose time with friends or the swimming pool or, more and more often, I chose books. I began to read about adventures rather than live them. The Woods lost their sense of magic, instead becoming the route I took to arrive, just as the bell rang, at my local high school. Then my mother, after hearing rumors of abandoned beer cans and makeshift shelters hidden among the trees, insisted I stop walking the well-worn path to school. I had to walk the long way around, on the main road, where cars rushed by and kids yelled obscenities out of open windows from big yellow buses.
When I defied my mother due to bad weather, and walked through The Woods on my way home, my stomach clenched in fear. I wondered who might be lurking in the shadows. It was no longer a place of freedom, but a place I must pass through to reach the other side of safety.
The Woods became the passage through which I left behind the simple wonder of my childhood and entered into the complexities of adulthood and maturity.
My parents no longer live in the condominium by the creek, so I can no longer visit. I can't remember the last time I sat on the jutting rock beside the creek in the sunshine and watched the secret life of water float by. I don't recall the last walk through The Woods or what I saw there. But, I remember the feeling it gave me as a child. It was the feeling of endless possibility, and I have chased it from state to ocean to country to continent. I may never reclaim The Woods, but I have discovered I can reclaim the feeling it gave me.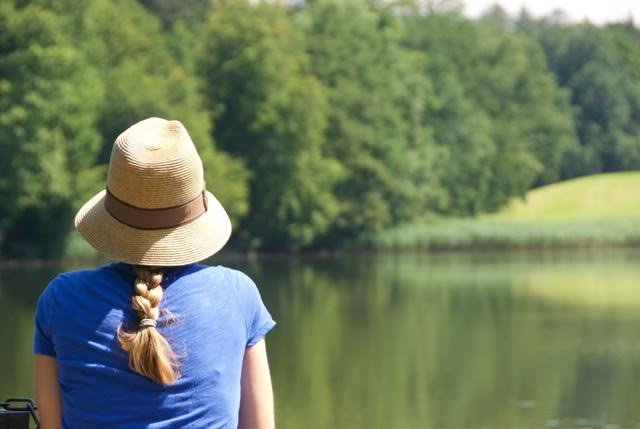 The closest I have come to possibility, to remembering this sense of serendipity and freedom, was in a small forest tucked into the mountains of Horgenberg in Switzerland. I moved to Switzerland in my thirties, no longer a child, but with three children of my own in tow. I began to walk and run in the forest. I discovered its central lake, its tree lined paths covered in leaves and dropped fir needles. I walked in snow, I ran in blazing heat, I prayed and cried and laughed and adventured. It healed me in ways I didn't know I needed healing. It brought back a sense of childlike wonder I believed was lost forever.
I no longer live in Switzerland, and once again I've lost the woods and the water. I live in the suburbs of New Jersey, where concrete and mini-malls surround look-alike housing developments. I haven't given up hope though. I walk through parks with curated paths of poured cement, and in gardens with glacial rock formations surrounded by manicured lawns. Again, I'm a wild queen contained in a tower, an explorer trapped in a maze of concrete, but I haven't stopped looking for the door. I believe with enough searching, I will discover a place that I will claim and call mine, where I will once again know freedom. I'll know it by the way my stomach twists with excitement when I discover it. I'll know it in the way it makes me believe in endless possibilities.
* * * * *
Kimberly Coyle is a writer, mother, and gypsy at heart. She tells stories of everyday life and the search for belonging while raising a family and her faith at kimberlyanncoyle.com. She writes from the suburbs of New Jersey, where she is learning how to put down roots that stretch further than the nearest airport. Connect with her on Twitter @KimberlyACoyle or her FB page Kimberly Coyle