For years, I shot up nightly. Didn't matter where I was, I had a small vial, a hypodermic needle and an alcohol swab. I had to have my "fix" at the same time every day, so if I was at a friend's for dinner I'd take my stash into the bathroom and do what I needed to do.
Sure, I could be off by a short time, but I was compulsive about maintaining the consistent schedule. If that meant that I had to quietly excuse myself from a picnic in order to go to the car and dose up, I'd do it. I even fashioned my own sharps container out of a small Tupperware container until I got home and could dispose of the needle. On my dresser sat the official version– the one I got each month from the pharmacy. With one or the other, I could safely dispose of the tools necessary to administer meds for infertility.
"Super ovulation" drugs are meant to crank up the volume on the normal cycle of things. Where a woman's ovaries might typically release one or two eggs of a size sufficient to be found by certain swimmers, the drugs took me from your basic medium size scramblers to a dozen or more extra jumbo free-range beauties. Basically they helped provide a larger, more enticing target for the swimmers. The drugs also helped create a cozy den in which those two crazy kids could get to know each other.
Every day for half of the month, I'd administer the injections. Open the alcohol swab, inhale that fresh, sharp scent and reach for the needle. For balance, other days featured numerous extractions, as I had blood drawn every few days to see how things were progressing. The smell of those alcohol swabs before the blood draw was somehow sweeter because it meant I was closer to an answer.
And then I would wait.
The reminder alarm would continue to go off each evening, and I swear I could almost smell it. I became one of Pavlov's dogs. Only I didn't salivate, I hallucinated the smell of rubbing alcohol. Most months, I was betrayed with a crimson enemy confirming that the target wasn't cute enough, the swimmers weren't charming enough and the party den wasn't alluring enough.
But I needed to wait until three days after the betrayer had left, in order to begin the cycle anew.
Those days of waiting were roller coaster rides of a different kind. The highs were stacked up ridiculously tall, strengthened by brand new hope for the coming month. It was like the fresh feeling of a brand new backpack on the first day of school. Hope and possibilities abounded. This one's going to be great. This one's going to work.
My stash – the drugs and the supplies – became my tools. Tools I prayed God would use to help my husband and me be fruitful and multiply. I prayed over all of it. From the prescription, to the box delivered by UPS, to the tiny glass vials of what looked like very expensive water.
My routine became part medical intervention, part sacred ritual. Though the details would change each day, a typical evening went like this:
Wash hands – Father you know the desires of my heart; let them be fulfilled through this process – Gather supplies – Lord, thank you for this medicine and the doctors who use it on my behalf – Swab injection site – Please, please, please, please, please (and yes, I believe that is a holy prayer) – Injection – God, I am in your hands; I trust in your wisdom that you have a plan for me.
I remained in God's hands, continuing to trust in his plan for me as I stayed on the roller coaster for five years. As I approached the top of each month's ride, the combination of excitement and dread built up anew until I reached the top and had to wait in that in-between space that seemed to take forever. Most months I was sent crashing downhill at breakneck speed, spun around until I was dizzy and confused, and ushered to an exit where I came to a stop, exhausted and shaking.

A few times, the roller coaster rides indeed ended with the desire of my heart: I became pregnant. The fear of the never-ending-ride gave way to grateful, giddy joy when I was able to step off the platform of constant cycles. My heart pounded loudest of all when I heard the heartbeat of my own baby, and my heart broke hardest of all weeks later when the heartbeat stopped.
It took several months – physically and emotionally – to get back on the roller coaster. But I eventually climbed back on and resumed my nightly rituals, perhaps with a tad more urgency. Wash hands – Father you know what I want;  Where's the needle? – Thanks for giving me another shot!  (Sometimes humor is what got me through.) Swab, swab, swab – Please let this work; Injection – I've done all I can do, it's in God's hands. Round and round I went until the doctors gently suggested that the ride was likely to always end at the same empty destination.
That was six years ago, and I still sometimes struggle when I see a pregnant woman (which, by the way, to wannabe-momma me, seems to happen almost daily). But God has been faithful. I used to have to pray away envy – Lord let me happy for her, (i.e., not secretly "hate" her) – and now I can truly pray for her well-being – Father keep her safe and healthy that she might raise a child who serves you.
I still have a long way to go. But whenever I happen to catch a whiff of rubbing alcohol, I smile. Sometimes it's bittersweet and those roller-coaster days seem like a dream. But I like to think that God is answering my prayers in some small way by reminding me that he is not done with me. He continues to help me heal. The fact that he might use the smell of an alcohol swab to encourage me to keep trusting and seeking him? I take delight in that.
* * * * *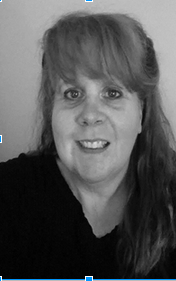 Patricia Alderman's passions include serving and doing life with those in her church community, maintaining the home she shares with her floppy-eared beagle, and getting her hands dirty in the garden. She also solves many of the world's problems while relaxing with a skein of yarn and a crochet hook. She can be found online at patriciaalderman.com and @patricialderman on Twitter.

"Cotton Ball Clouds" photo by Swerz on Creative Commons