At this writing, I've spent the past month moving the last four years of our trio's belongings out of an unremarkable two bedroom apartment in midtown Anchorage. It's possible I consumed my weight in ibuprofen during this undertaking. Throughout the endeavor, I also found enough Legos embedded in the carpet fibers to assemble a small, albeit misshapen army.
While I've known for some time that I wanted to move from this space, I never could have prepared for the emotional rollercoaster of actually doing so. Packing and cleaning our apartment made my July feel like an unending series of montage scenes. In many ways, my month resembled one of those corny "flashback" episodes of the sitcoms of my youth, like Family Ties or Growing Pains:
This is the spot in the kitchen where we processed and cooked our first wild-caught salmon.
Here's the place in the bedroom where our youngest, Matt, was born.
This is where I would put Sam down for a nap when I was in grad school.
And here's the place – during the period that Sam wanted his mattress in the closet, the year his brother and mom lived in Pennsylvania – that we read The Hobbit together…
*
Many writers – well, at least Burt Bacharach and Edie Brickell – have rightfully speculated that "a house is not a home." We've all likely stepped into or dined at a location that at first glance seemed an enviable living space that instead revealed or possessed an unsettling feeling in the air: The spirit of "home" that we expect to inhabit a property can prove noticeably missing from a "house" structure. Still, I've visited many more impressive living spaces than ours in recent years, and frequently returned to our apartment – with its 1970's, bright-orange countertops and carpet the color of a three day old March snow – lamenting that circumstances didn't afford us a larger, more stylish space to dwell in together.
*
I once heard a bit of "literary lore" that's over the years helped me work with, among other things, "writer's block." As best as I recall, the tale goes that Chekov – the Russian short story wizard and playwright – was seated at a table outside a cafe where a fellow writer lamented the difficulties of the writing task. In response to his friend's grousing, Chekov lifted or pointed to a glass on the table and – I'm paraphrasing – remarked, "Look! This glass! Start with this glass. I could start writing about this glass and soon a story will emerge!"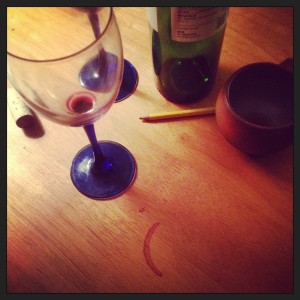 If it's true that each person invents, or at least significantly participates in shaping his or her reality, then Chekov makes a wonderful point. The materials for creating good writing and art, and, more importantly, a life are everywhere around us.
In other words, the tools for crafting the stories (and poems and songs) of our lives are always within view – in every direction we turn or look – provided we learn to cultivate an awareness of them, and then use them to pay tribute to the life we're given.
"Every day is a god," charges Annie Dillard, "Each day is a god. And holiness holds forth in time." If this day is a god, too, then how have I recognized it for what it is, whether I live in a majestically-caffeinated, superbly-microbrewed, literary and artful progressive hub like Portlandia or Brooklyn; or in a gruff, misplaced neighborhood pitched between two thoroughfares amidst a gaudy cluster of stripmalls in Anchorage, Alaska? If Annie's right, the divine runs amok in every place I find myself, and I'd be remiss to prove too stymied or checked out to engage with it somehow.
Or, as Mary Oliver intones:
Whoever you are, no matter how lonely,
the world offers itself to your imagination,
calls to you…
The daily task, it seems, for my small part in life's continuing unfolding, is to ask if I am even listening in the first place? Am I curiously taking notes or am I continuing to uneasily recite the redundant, recurring melodrama of Me?
Rather, if the world is offering itself to my imagination, calling to me, perhaps it's only common courtesy to pick up, to answer the call in the first place? No matter where I am?
*
By the end of July, in a space I had for months, even years, known it was time to leave, I was surprised and overwhelmed by the emotions accompanying the move, solely given the import of our collected memories and experiences under our little section of the building's roof. Though our apartment was never the envy of others, our little brood managed to – with attention and care – create a place together. Not a perfect place – not by a longshot. In fact, at times, it was a deeply troubled and fraught place. (The middle of its story, after all, features a divorce.) But we abided there in the best ways we knew how, and in our abiding, this place became home.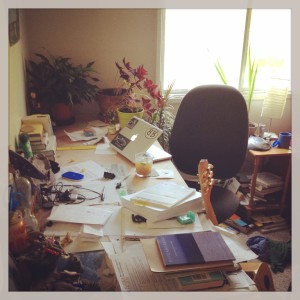 *
…Here is the spot where I feverishly added to a list of "Reasons to Stay Alive" in 2013…
…This is the room where the songs "Olena," "Book of Consolation" and "Hope, Alaska" came to life…
…Here's where, in 2008, I watched an episode of Planet Earth on DVD, as I gently rocked back and forth in the living room with Matt, then only a few weeks old.
David Attenborough detailed the journey of newly-hatched sea turtles. The mother that the baby turtles never meet laid and buried her eggs in the sand, and then returned to the sea from where she came. In this scene, the newly-hatched babies clamored, scampered towards the roaring ocean, drawn there by some invisible, timeless knowing.
This is the spot where the film showed the baby turtles darting across the beach and flinging themselves at the surging depths.
This is where I was sitting alone with Matt in the dark when David Attenborough noted that only one in ten thousand of the baby turtles survives their journey,
where I was then unexpectedly overcome with tears.
This is where I looked down at Matt sleeping in my arms, and rocked a little harder and swallowed the sea…
One in 10,000.
One in
One in 10,000?
We can do this.
(Right? Maybe?
Do we have a choice?)
We'll do
– we will –
everything
anything