Two years ago I set off for an early morning walk along the Wildwood, New Jersey boardwalk in search of the most significant landmark from my childhood. It was the point around which my year revolved for a decade for our extended family's annual vacation.
The sun was already blazing in the sky. The boardwalk narrowed, and then it stopped altogether, giving way to an asphalt walkway behind the dunes that seemed no match for the roaring ocean nearby.
After rounding a massive hotel that looked a bit more run down than I remember from over twenty years ago, I saw the familiar lit up palm trees on the horizon and the snack bar deck peeking out. I thought that the massive rock jetty nearby would tip me off that I was getting close, but the jetty was far smaller than I remembered. In fact, everything seemed smaller now: the beach used to feel like an endless desert, the tiny dunes had once appeared to be immovable barriers, and, most importantly, the Aloha Motel now appeared far less impressive and imposing.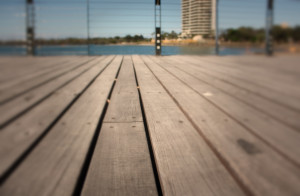 This (apparently) rather small and simple motel was the destination of our family vacations every summer during early July. To my young mind, this motel was a palace of sorts. We set off for the beach each morning, making the "arduous" trek over sand dunes and across "scorching" sand in order to swim in the "freezing" ocean. At the end of the day, we'd return to the Aloha for a dip in the pool and then showers, before setting out for a night on the boardwalk. If our vacation coincided with baseball's All Star Game, as it often did, my cousins and I would eat a late dinner huddled around the television.
Now, standing on the sea wall as an adult, with the Aloha before and the ocean behind, I imagined my grandfather shuffling along the first floor walkway in order to make our reservations for next year, wearing his large "Quinn" family hat. Pop was not one to be outdone in the planning department.
As I shifted from the magic and wonder of the past to the stark, underwhelming present, I found the magic of my childhood creeping up on me. My own child, back at a different hotel with my wife, was experiencing his first vacation in Wildwood. Just a year old, he couldn't enjoy any of the rides or games that my cousins and I had experienced with pure joy, but just having a child of my own made my childhood seem more present. Everything was amazing back then.
Back then, every day felt like an eternity of waves, sandcastles, and beach games. Every dinner out for fried seafood or greasy pizza a culinary wonder topped off with Kohr Brothers custard. Every amusement pier promised an exhilarating rush.
That day, 20 or so years later, I could see the run-down Aloha Motel, the kitsch of the boardwalk's games and rides, and details I don't remember noticing as a kid, like people hauling coolers full of beer to the beach to get hammered while they tan. Left to my own devices, the present overwhelmed the magic of my memories that had all but washed away. Now that I had my son to consider (these days we have two sons), I couldn't stop myself from filtering everything through his perspective.
On the one hand seeing the shore through my son's eyes was a delightful delusion, but on the other, my son gave me a part of myself that could have been lost forever. The memories of the past roared back stronger and with greater clarity because I didn't just see the pictures in my mind—I felt them.
I already could imagine him one day tearing around in bumper cars, zipping up and down on the airplane ride, or spending hours on a massive sand castle that won't survive high tide. These weren't just happy moments—these were the thrills that, in part, defined my childhood. As open as my eyes may have been to the more disappointing elements of the shore during that trip, through the lens of fatherhood I regained a childlike clarity that had once been my own.
Who's to say which version is the better or truer one?
*    *    *    *    *
"Rescuing the Past at a Run-Down Motel" is by Ed Cyzewski. Ed writes at www.edcyzewski.com about prayer, writing, and the ways they intersect. He's the author of Pray, Write, Grow: Cultivating Prayer and Writing Together, First Draft Father, and A Christian Survival Guide. Find him onTwitter or Facebook.