A fire engine shrieked through the stoplight, casting a light show in my room and spraying the bare white walls with color. Even through closed windows, the sound was deafening. Within minutes, an ambulance from the hospital in the other direction bayed and bounded through the intersection. I rubbed my eyes. The city had assaulted me through the night, pushing away any hope of restful sleep. The thought of coffee propelled me out of bed.  
As new college graduates, my two roommates and I were fresh from the sweetly singing suburbs. Having recently secured jobs in Chicago, we moved into a two bedroom apartment above a tuxedo shop doubling as a dry cleaner in Uptown, at the corner of Clark and Wilson. Our landlords owned the block. The father, an Arab from Palestine who worked tirelessly at the dry cleaner, was a large silver-haired man with bushy eyebrows and kind black eyes. He gave us a 10 percent discount for being his tenants. His burly son lived across the hall from us and owned the cell phone shop next door, which sold a variety of wares during our four years living there. The uncles worked across the street at the liquor store where we dropped off our rent.
My first Saturday morning, robed and ready for the sacred morning space I was used to, I cradled my mug and stared out the window. "Rayan's Liquor" spread out in faded white letters and wrapped along the maroon awning across the street. A homeless man, gesturing and shouting expletives to the air, stood under a golden tree that had gingerly begun dropping its leaves. Car brakes squealed as they screeched to a stop at the light. Every other car speeding through the green would hit the edge of a loose manhole cover and send a loud pop ricocheting off the two-story buildings.
My father called from my childhood home in Florida later in the day. "What!?" I shouted into the phone, a chorus of sirens parading through our living room. "Hold on!" I said. When the noise subsided, I could hear him chuckling on the other end.
"That was the third one since we started talking ten minutes ago!" he said. "How is everything really?" he asked.
"Fine," I said. "I love it here."
And I did. Everything about our situation was different from the life I had known. The city challenged my five senses to reinvent themselves as they began to adapt to a world of constant stimulation.
I went for a jog in the afternoon, heading down Wilson Street's gum-stained sidewalk towards Lake Michigan, less than a mile down the road. Passing people of every color, shape, size and design, I weaved between trudging homeless, clean-cut men in skinny jeans and Hispanic mamas pushing strollers. The L train roared overhead as I ducked under the tracks, the dark urine-saturated street littered with trash and pigeon droppings. Pigeons scattered as I ran through, my blond ponytail wagging in rhythm with my steps. I would come to learn that this particular L station was known for crime, and that pedestrians saw the stoplights as arbitrary suggestions rather than accepted rules.
As I jogged in place at the intersection, a woman catty-corner from me was in a full-body leotard with her pink panties and bra on the outside of her clothes. Holding a juke box, she twisted, jived and swayed without reservation. A grimy MacDonald's was across from mini-castle-like Uptown Baptist church, the sign "Christ Died for Our Sins" punctuating the sky. Next to it was a fried chicken shop, an African hair braiding salon, a wig shop and the Friendly Towers, home to a Christian commune called JPUSA. After passing a run-down middle school and more bundled homeless under the Lakeshore Drive underpass, I finally glimpsed gem-like Lake Michigan.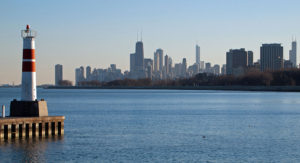 Arriving at the lake, I halted and took a breath. The vast open space and comparative silence were an abrupt change after the city chatter. The lake was a glassy emerald, swaying and shimmering. The cars on Lakeshore Drive were a soothing hum behind me. I couldn't see the other side of the lake, which was a comforting reminder of the mighty ocean that had raised me as a child.
In my nine years living in Chicago, this water would become my serenity in the noise. It would be my Sabbath rest after the six previous days of rush and motion. Coming here would provide the margins I needed to stand aside and make sense of the jumbled words on the page—the scribblings, run-on sentences, and scratched out thoughts of my 20s. Here, my senses would reconvene. I paused a moment more before turning back to the throbbing metropolis.
(Photo of the Wilson L station by Graham Garfield; Lake Michigan view from Montrose Harbor by John Picken.)
  *   *   *   *   *
"Chicago's Uptown" is by Leslie Verner, a goer who is learning how to stay. She has her BA in elementary education and MA in intercultural studies. She has traveled all over the world and lived in northwest China for five years before an unexpected U-turn brought her back to the U.S. to get married. Leslie currently resides at the foothills of the Rocky Mountains in Colorado with her husband (an audio book narrator) and two devious yet delightful children. She writes regularly about faith, family and cross-cultural issues at www.scrapingraisins.blogspot.com. Follow her on Twitter at Scraping Raisins@leslie_verner and on Facebook as Leslie Verner.