The Book Barn is the place to be. Situated on the Connecticut shoreline, it is a store, hobby farm, and booming antiquarian book business all rolled into one cat fur-lined ball.
The Book Barn is, literally, a farmhouse with adjoining barns and book stalls all over the acre it sits on. There are cats lying, sitting, and walking around in every structure. During the summers pygmy goats laze in a pen next to the house. All year round about twenty barn cats roam from barn to barn. In the farmhouse there's always free coffee and tiny powdered sugar donuts. It's been a sanctuary for me for the past ten years. I have spent time there searching for books on my school reading lists and syllabi, for spirituality texts, for out-of-print fairy tale and folklore anthologies, for stuff to read on airplanes, for indie comics. I have sat for whole afternoons in the chilly attic, sharing a broken down couch with a barn cat, reading through books I'd never heard of like J.P. Donleavy's The Unexpurgated Code, Kate Millett's Sita, and Peter DeVries' The Blood of the Lamb.
An education to be sure.
For the first few years, I brought my Milton professor from the University of Connecticut down with me. He was semi-retired and glad to get off campus and down to the shore. We visited the Barn for a couple hours, then sat in a Greek restaurant looking out over the Long Island Sound and talked about what we'd bought. Poetry and actors' memoirs for him, and folklore for me. We'd go every six months or so. Later I went on my own more frequently, or brought friends with me. Sometimes I'd go twice a month–there's an allure to the tiny place with it's perfect situation near the ocean and the cute Scottish pub and the palm-reading shop next door.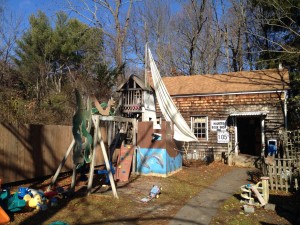 One of the best things about the Book Barn is that you can sell your books back to them. For every book I sold, they gave me either a little cash or store credit. There were flush seasons for me in which I'd buy thirty books at a time. There were other times when I had to move and couldn't deal with the overwhelming library I'd amassed, so I performed a triage of sorts on my books and sold a box or two back. This worked so well that one summer about four years ago, I decided to sell my Baby-Sitters Club collection, all three hundred books.
I drove down to the shore and pulled the box out of my trunk and took my place in line. Many people came to sell on weekends and as was common, the line wound back in the parking lot. When it was my turn, I shoved my box onto the counter and stood back smiling at the owner, Randy. He knows me pretty well by now, I thought. He'll probably give me fifty bucks for this! Randy frowned and called over one of his assistants. My heart sank. It was one of the savvy book-buyers, one I sometimes asked for recommendations. She peered into the box and shook her head.
"We have so much Baby Sitters Club already," she said.
"But, everyone loves the Baby Sitters Club!" I said, winking. "I mean, who doesn't love baby-sitting stories steeped in moral values from the eighties?"
She laughed. "I do. But we can't even sell the ones we have." She paused. "There's a charity book drop at the children's museum down the street. I don't think there's any resale value on these things."
I sighed and turned away. But since I was there, and the day was sunny and warm, I threw the box in the back of my car and skipped back up the path to the house. Treacly baby-sitting fiction be damned, I was in my favorite place! Later that day I did throw the entire box into the charity book drop–there was no way I was bringing three hundred books back home.
I found a dog-eared first print copy of John Knowles' A Separate Peace and a dollar paperback of The Light Princess and Other Tales.
"Score!" I said gleefully to a passing tabby. She stared at me for a moment as if to say, "Everyone scores here, it's not that big of a deal," and then she stalked away.
I went to another stall and skimmed through a Peanuts treasury. I squeezed past a father and son who were staring at a coffee table-sized golfing manual. Here's a place, I thought—for the hundredth time, where anyone can find a book on anything that strikes their fancy.
I went to pay for my books and got in line at the register. I ate a powdered sugar donut and watched a family in line ahead of me. A preschool girl was showing her new (old) Lowly Worm book to her older sister. Both bent over it and grinned looking at the worm in the Tyrolean hat with his single boot on.
I smiled to myself. I was home. My tribe and my place, my coffee, cats, and books all around me.
*****