I'm puttering happily in my yard, hand-picking dead leaves from around newly-sprung bulbs and perennials. Sometimes a new shoot bursting from the earth has, in its green exuberance to reach the sun, pierced a dead leaf: a sword slaying winter. Those are my favorite leaves to gently remove—an affectionate greeting, like tucking a wisp of hair behind a daughter's ear upon her arrival home from school.
Hello there, fierce beauty. It's good to see you again.
Late spring is my favorite time to garden. It's more leisurely and satisfying than early spring, when there is at once so much to do—so many soggy leaves and fallen branches to gather—and so little you can do other than wait for the sun to do its work. And by mid-summer the heat has risen and I've lost much of my initiative; all I want to do is sit back and sip iced tea, not face the dull but pressing work of weeding and watering.
But in April and May, nature has begun to give the garden shape. Visits to my yard remind me which returning plants I've rooted where, while the gaps between them spark ideas about new plants I might want to try. I'm energized both by what's there and what's possible, and the dreaming takes me often to the brick patio where my iced tea and go-to gardening book wait.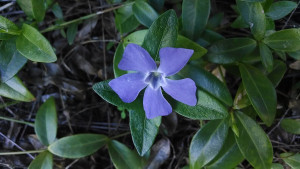 As I sit at the table flipping through the "Annuals" section of my book, the groundcover that borders the patio on two sides seems non-threatening and innocent. It has no plans for the summer, it seems, no big goals or bucket lists. It's just hanging out, looking green like it should and showing off the pretty little blue flowers that earned it the name "Periwinkle." For the moment I'm able to forget another name the plant is known by: "Creeping Myrtle."
So I ignore it. I'm busy deciding how many flats of annuals I can reasonably justify buying to add spots of color to our shady property. I'm also daydreaming about our family's first al fresco meal of the season, and what I might ask my husband to cook on the grill. Meals on the patio are, to me, the closest city dwellers can get to a family getaway without packing up the car and leaving home.
There's something about physically separating ourselves from the dirty dishes in the kitchen, the laptops, our separate places behind separate closed doors, that touches on the many meals of my childhood that were cooked and consumed under the shade of tall trees at campground picnic tables, and the playground picnics we spontaneously put together when our girls were little. Meals outside are meals that say, "This is just about us, here and now. Everything else can wait."
 *   *   *   *   *
If only time and nature knew how to wait.
In my garden, by late June, the Periwinkle has morphed into Creeping Myrtle mode and is well into its insidious advance into my territory. The precious borders of the patio begin to diminish. Gradually, as the vines inch onto the bricks, chairs are inched away by guests. As a result of the shifting chairs, the large rectangular table eventually gets pushed out to make more room.
It's an imperceptible migration from one week to the next, until, one day, I walk out to the patio with plates and silverware and notice the table seems almost centered on the rectangle of bricks rather than shifted to the south edge, as intended. In fact, that rectangular foundation is looking rather square. I set the plates down and walk over to grab and lift a handful of vines.
They look as if they're rooted where they lay, but they easily lift up, exposing a surprisingly wide swath of bricks below. I keep lifting the tangled growth, revealing more and more bricks, until finally the roots—in soil, where they belong—are exposed.
Those territory-hungry plants can infringe on a foot of patio in a month, it seems! What they see in bricks is beyond me, but it seems they haven't put much thought into it. They're motivated only by a vague sense of world dominance, without any concern for the path they'll take or what they'll do when they arrive.
"You can't turn your head to focus on the flowers for even a couple of weeks without some aggressive vine trying to ruin everything," I think to myself, heading to the garage for gardening gloves and clippers.
I ruthlessly attack the Creeping Myrtle, extreme in my hacking as I know it's only a matter of time before nature's wild, raw inclinations begin again to dominate, erasing subtlety, variation, and any boundaries I've decided to draw. It is, of course, worth it—all the battles waged against the encroaching weeds as well as all the coaxing and care of what I find beautiful. In the end, it's all about the table we set and sit down around, to claim what is ours.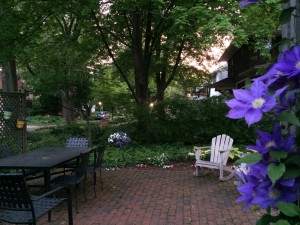 *   *   *   *   *