As a nine-year old recent refugee I often felt lonely. The kids at school, taking their queue from ubiquitous images of famine-stricken Ethiopian children with protruding stomachs and flies milling around their eyes, referred to me as Starving Ethy—Ethy being short for Ethiopian. The school often isolated me, with other aliens, in a special class they called English as a Second Language. When not at school, I spent most of my time alone, roaming the neighborhood, scavenging for odds and ends, finding the occasional Garbage Pail Kids trading card or a broken Transformers figurine.
Yet my family and I were not alone. Like many other refugees before them, Eritreans in the U.S. had begun to conform to an old pattern. The first group arrived in a specific city by design. They resettled there as part of a grand scheme cooked up in the mind of civil servants sitting in a conference room somewhere. These special refugee programs preselected some location in the U.S. that they thought made sense for the refugees. And these displaced people didn't know any better. Des Moines is San Diego. San Diego is Des Moines. It's all the same to those simply trying to escape calamity.
But once the trauma of transition abates and with the gift of time, these immigrants grow familiar with their new homeland. They also grow restless. They long to be with people like them. They are drawn to DC by an old friend from the refugee camps in Sudan, to Seattle by a neighbor from the village back home, to San Diego by a former fellow rebel-fighter. Mostly though, they are simply glad to cluster their lives around other Eritreans. These people, in their search for more than refuge, shift and move; drawn to each other to dull the bite of loneliness.
It is through this familiar road that a growing number of Eritreans made their way to Atlanta. It is why a room full of Eritreans greeted my mom and me during one of our routine visits to one of these Eritrean families on one sunny and beautiful afternoon. The home, a unit at one of the local public housing properties, was overflowing with strangers, old friends, and cousins of cousins.
After the customary cheek-to-cheek greetings, my mom joined the other adults who were dutifully occupied by a coffee tradition that must date back to the beginning of time. All the guests sat together outside on the porch in a semi-circle with the hostess at the juncture and a brazier at her side.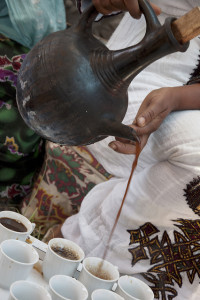 Like the old priests and their censers, the hostess filled the air with the scent of roasting coffee, giving each guest the occasion to waft and savor the aroma rising from the roasting pan. She ground the beans and carefully poured them into the jebena, a special kettle made of clay. After adding a cup or so of water, she placed the jebena on the brazier to work its heat as the ancient taste brewed with slow serenity. When it was time, she slowly filled each finjal, small ceramic drinking cups decorated with beautiful patterns in different colors, moving continuously from cup to cup until the circle was complete.
It was a well-choreographed ritual wrapped in a thick blanket of gossip, debate and gloating, each adult trying to outflank the other with their better tales and more exciting news. They moved from topic to topic, sometimes with rambunctious energy and sometimes with solemn prayer depending on the mood of each issue — all of this they consumed with wide open hearts, as they sipped their scrupulously prepared coffee. While the adults sat on the porch consumed by their disputations, I joined the kids playing out in the field an earshot away.
In many ways these interactions are perfectly symbolic of the solitude we all felt in that place. A white American friend once described a moment she'd experienced in Shanghai, China. After living there for years, she ran into a black man, the first speckle of diversity she'd seen in a long time, while strolling along at some shopping district. As soon as she spotted him, she ran over and asked if she could give him a hug, explaining that he reminded her of home. The stranger obliged.
*   *   *   *   *
"Refuge" was written by Biniam Gebre. Biniam is a former refugee from Eritrea, a beautiful and young country in East Africa. He is also the former acting Commissioner of the the Federal Housing Administration. Both in his professional life and personal struggles, he is in constant search to understand the meaning of place. He currently lives in Washington D.C. Biniam blogs at Choices and Values and can be found on Twitter @biniamgebre.
Photo of the jebena, above, is by Canned Muffins.