"It's like a resort for rich Christians who want to spend a week pretending to be cowboys."
This was my standard explanation of Deer Valley Ranch when I told college friends where I had spent the summer working. There was really no better way to describe in a nutshell the wonderful yet bizarre place—especially from the perspective of someone like me, who had grown up solidly middle class, taking budget vacations that involved sleeping in a tent and eating Mom-made sandwiches at scenic overlooks.
My upbringing in the Midwest also fueled my fascination with Deer Valley Ranch. While several of my friends lived on farms and had horses, no one seemed particularly intent on embracing the romantic charade of playing cowboy. Maybe Michigan's wooded trails and country roads just didn't provide the sort of Wild West backdrop necessary for getting in the cowboy mood.
Deer Valley Ranch, near Buena Vista Colorado, definitely has the right backdrop. The ranch is nestled in a range of mountains known as "the fourteeners," with Mt. Princeton's Chalk Cliffs rising dramatically behind the lodge and horse stables. The whole setting suggests the work of a talented stage crew under the direction of God (with a very large budget). The actors in our theatre were the staff—the other Christian college students and I, in our Wranglers and cowboy boots and hats—and our drama relied on "breaking the third wall" by inviting  guests to participate in the action.
We took the cowboy narrative pretty far down the trail at Deer Valley. I quickly learned it was what the guests were paying for—good-clean-Christian-family-cowboy-fun. Each week started off with an all-ranch hymn-sing led by Cowboy Dave, an event that served to set the tone and to begin drawing guests together with their common beliefs (not to mention their shared vacation proclivities).
Those of us working as servers in the dining room completed our Wranglers-and-cowboy-boots costumes with a red or navy gingham checked shirt and a contrasting bandana around our necks. We carried large trays filled with plates of authentic Western food, like beef brisket and whole trout. (Sometimes the cook prepared the very fish that had been caught earlier in the day by the guests. You have to pay good money to catch your own dinner.)
Square dance nights on the deck called for full staff participation. It was our job to urge hesitant guests out onto the dance floor unders the sky to learn the line dance moves, or to succumb to the lively two-stepping spins of an eager old cowboy in need of a partner.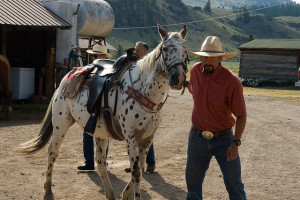 But the Cowboy Breakfast was the Deer Valley act that topped all others. A couple of times a week a handful of staff got up at the crack of dawn to travel off-road in an ancient pickup truck to our wilderness breakfast site. Once there, we started a cooking fire, letting it get nice and hot before adding cast iron skillets of bacon, to be joined later by scrambled eggs and grits. Big pots of "cowboy coffee" were added to the grate, ready to pour into tin cups when the guests arrived.
Even at the end of my summer at the ranch I still fought a bemused smile when Cowboy Dave and his crew came rounding the bend on their horses, each rider in full cowboy attire. We greeted them with a boisterous "Good mornin'!" as they dismounted and walked over on stiff bow-legs to grab a tin cup and load up a plate at the fire.
How could I not inwardly chuckle as I slopped grits on someone's plate and Cowboy Dave swung his guitar around from its perch on his back to begin playing suitably-mournful cowboy songs? The guests were sore, cold, and sleepy after getting up before the sun to sit too long in the saddle. The plates I spooned grits onto weren't those nice, speckled blue enamel sets you buy at camping stores—they were dented dull grey metal. And the coffee we served was full of grounds. As someone who had grown up roughing it on the cheap, I found plenty of irony in people spending significant sums on such an experience.
But there were those incredible mountains reaching up behind the guests as they crunched into another piece of bacon and their horses munched on some feed nearby.  And I had to admit, my feet felt good in my cowboy boots, and there was something energizing about a deep intake of that high-altitude air. I even began to understand that having things like shiny plates and gourmet coffee would ruin the charade these folks had paid good money for. And what's any expensive vacation, after all, if not a charade to help us vacate reality for a handful of days?
*    *    *    *    *    *

Photo of Mt. Princeton's Chalk Cliffs by Wongaboo. 
Cowboy and horse photo by Just Too Lazy.