"Leave it all on the top!" was written among the other encouraging words. My co-workers had presented the pink bandana covered with inspirational phrases as a gift.
That pink bandana was now tied over my dirty hair. I cringed to look at our guides with their inadequate gear as I looked down on all my carefully purchased attire, bought just for this moment.
It was summit day.
The night before, our support team had made chicken for dinner. I knew that chicken had been carried on someone's head for the last five days and tried not to think about it.
After the meal, our guide, Wense, came to give my sister and I a pre-summit day pep talk. The highlight of his speech featured showing us an oxygen tank that he would carry for emergency situations.  I wasn't comforted.
Wense rattled the tent long before the sun rose, indicating it was time to get started. We wrestled into our clothes and emerged from the tent, strapping our headlights to our foreheads.  He looked expectedly at us, silently asking us if we were ready to begin. Melinda took a step forward toward the trailhead and I forced myself to follow her.
The first stretch of the summit was bouldering in the dark.  Yep, maintaining balance, moving from rock to rock, in the dark. I tried not to panic. As I looked at the twinkle of head lamps making their way up the dark mountain, I took a breath and told myself, "Do it for Melinda. Do it for Matt."
Since my brother, Matt, had been killed a few years earlier, Melinda and I had gone to crazy places to see the sun rise on his birthday. This year we were going to summit Mt. Kilimanjaro in Tanzania. It is the tallest peak you can climb as a recreational hiker.
The first few hours passed with few words and my continuous mental mantra, "Stay calm. You can do this. Just keep moving." Or, the African version, "Pole, pole."
Melinda was in top physical form. I, however, overcame a major mental hurdle just putting on a sports bra. I had done a minimal training plan…walking to work a few times with my pack, climbing the one local peak a few times. I wasn't nearly as prepared as I should have been and I knew it. But, Melinda had convinced me to do the trip saying, with a twinge of exasperation, "Mary, you could do it right now if you needed to!  You'd be surprised what your body is capable of."
About 60% of the way to the top, it was clear that my sister and I were traveling at different speeds and needed to part ways. We stopped to take a "just in case" photo. She pressed the button, and then again, and then again. After several attempts, she couldn't get it to work and shook her head in confusion. Later, she realized she had a pressed the On/Off button repeatedly, absolutely unaware. A first indication of her altitude sickness.
A few minutes later, I caught up to her as she vomited into the rocks. She went to get a drink out of her water, but the line stretching to her mouth had frozen. She did her best to spit and without hesitation, she pushed forward. The junior guide followed a few steps behind her.
As the sky began to light up and we rounded a corner, I could see the summit, still off in the distance. Doubt was taking root. "Oh, it's still a long way. Can I do this? Do I even want to?" I asked myself.
The terrain had turned to rubble, and with every step forward, I slide back a few inches. The backwards motion was wrecking havoc on my mental game and my breaks grew longer and longer. Without a word, Wense pressed his shoulder against my back, prodding me back into motion. He didn't appear to even be exerting himself.
My mental toughness wearing thin, I couldn't rely on my own pep talk any longer. Starting to think about calling it quits, I turned to divine help and the rhythm of words.
"Hail…"–one step.
"Mary…" –another.
"full…"–eight inches forward.
"of grace…"–another.
The Hail Mary is 23 steps long.
After I finished the whole prayer, I would pause and then, go after it again. Another 23 steps. Another plea for help. Over and over.
Somehow, beyond my comprehension, I made it. The summit!!! Amen!
I was too drained to do much celebrating. But, I had done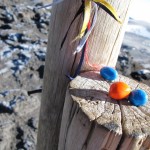 what I needed to do. I had done it for Melinda, for Matt, and for myself.
My sister left three M&Ms behind at the highest summit post, a small token of remembrance for "the three M's" as my mom had called us.
Enjoying the view, I turned to glance at the trail and knew that I had indeed left it all on the top. Thank God for gravity and momentum. The trek back was a stumbling, fuzzy, grumpy blur except for one vivid memory where Melinda turned and said, "I have never seen you like this. Are you okay?"
I wasn't. But, I would be…we had done it!