It was January—that moment when, in Michigan, you are still descending into the depths of winter. (Never mind that the days are getting longer, lighter.)
I was continuing to descend, too. My descent was more deceptive than winter's—a postpartum swirl of hormones and emotions that could just as easily trick me into believing I was rising as falling. There were moments of brilliant sunshine on fresh blankets of snow, joyful baby squeals, and the sense that I had never quite been whole without this little one in my arms. In those moments I felt buoyed. Was the falling sensation I felt actually a rising—a trick of the mind?
No, that wasn't the case. At least not in any comprehensive, lasting way.
It's hard to say what exactly triggered me to finally shut down that January day—to batten the hatches, boarding up windows and barricading with sandbags as if to protect myself against a storm I had been watching move toward me. Now I know this about depression: the "what" or "why" hardly matters. It's not as if identifying "what" means it could all be easily "fixed." It just was what it was—a mix of chemicals and hormones, disappointments and anxieties, fear and regret, converging and swirling. And suddenly that day, that moment, I couldn't keep up the charade that had kept me inching forward on previous days.
I could only sit, blankly. Sometimes with quiet tears forging new paths down my cheeks.
Finally, while my baby napped, I called my mom. I couldn't speak, of course—couldn't begin to explain a thing about what was happening inside me. But she still heard me, like mothers do. She heard the tears from 70 miles away, where she sat in my childhood home, and she knew I was stuck; she knew I needed to move.
"I'm coming to get you," she said matter-of-factly, not asking or suggesting, only stating the fact in a way that allowed me to breathe a bit deeper.
So I sat as she drove to me through the frozen world. I don't remember her arriving at my house, or helping me pack a few bags, transferring the baby's carseat from my car to hers. I only remember the drive home—to the place I still considered home. I was, after all, only a decade removed from the time I had last lived there, the summer I was 19.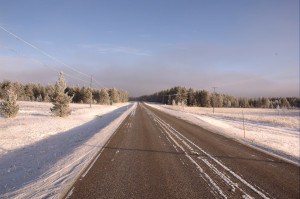 My mom had dark chocolate in her car, and as we traveled she told me to eat as much as I wanted—that it was good for me. She didn't ask me to explain anything, didn't ply me with questions or ask what I wanted or needed. She simply directed and gave, taking the wheel both literally and figuratively as she moved me from point A to point B.
As we traveled I felt the panic and confusion within me dislodge and begin to move downstream. I cracked open the shutters on my mind and began to take in where I was: The warmth of the car and bitter-sweetness of the chocolate. The beauty of the snow stretching out from either side of the two-lane highway—the way it was whimsical decorating the evergreens, and then sophisticated blanketing the ground, seeming to change color as it rose on hills and dipped into valleys, the late afternoon sun slanting onto its smooth surfaces.
I took in the one-stoplight towns in a way I never had before, even though I'd passed through them dozens of times behind the wheel of my own car. There were people on the sidewalks, bundled against the cold: a mother walking slowly as her snowsuited toddler kicked his boots through the snow; a group of three teenage girls who seemed to meander and stall, in spite of the cold.
The towns were then behind us, the speed limit rose, and I saw the sad, sinking homes down along the river, a man getting out of his rusted truck, pulled up alongside a satellite dish. Closer to home, the terrain flattened, presenting farm houses and sleeping winter fields. There was nothing remarkable along that stretch of road—no one, I imagine, living remarkable lives. There were just lives, and I noticed them as my mother carried me along.
Toward the end of our journey she told me a story about when she was a young mom—not to say "I know exactly how you feel," but just, I suppose, to broaden my perspective and help me see beyond the walls of my confining mind, just as putting me in the car helped me to see beyond the walls of my house, my life, which had become too small.
What my mother knew, what she taught me, is that becoming "unstuck" involves some form of moving, traveling, even if you don't know exactly where you need to go.