"This is my sixth time at this conference. Why do I have the jitters?"
I fired a short, honest tweet into the digital atmosphere, took a deep breath, and stepped into the halls of a Disney World convention center I knew so well. I scanned the crowd, simultaneously hoping to spot a friendly face and remain invisible until I got my bearings. My name badge displays a new city, a new company, and, oddly, my old name: Jen Rose.
The last time I was here, I was telling my engagement story and showing off a ring to anyone who asked. Two years later, marriage has changed more than a few things, but my former last name remains. Now it's a radio name, belonging to a character on this networking stage.
Once I settled into the energy of the conference, I felt more like my past self. I spent the weekend laughing at old jokes with friends I grew up with, meeting newcomers, and struggling to give a short answer to every stranger who asked, "So, where are you from?"
"Well, I'm from here, Orlando, originally. But now I live in Massachusetts." And I wondered every single time if that's the right answer, if there even is a right answer.
Where are you from? Is it really where you traveled from? Because I'm definitely not from New England. Or is it where you work and live now? Is it the airport I flew from, Providence, Rhode Island, another state entirely? Do I tell them where my employer is – a small and sort of new CHR station in Worcester – or that I work from my apartment in another city over an hour away? I used to tell people I was from Orlando, but I actually lived in a small town an hour away. So should I tell them I'm from Boston because it's a major point of reference and the only city most people out of state know of? No, definitely not.
Having two homes is weird.
*  *  *  *  *
It's been about a year and a half since I said "I do," packed up whatever could fit in a suitcase or the trunk of my Honda Civic, and moved into a third floor apartment 1,200 miles away from everything I had known. And since the day I arrived I've been wrestling with ideas of home and finding my place. Friends and family ask if I'm feeling at home yet, and I say yes. It's partially true. I can get around without a GPS most of the time, I have favorite coffee shops, and I can finally pronounce some complicated Massachusetts town names.
And yet, still the displacement. Still the realization that I can't go back to the past. And sometimes, the nagging voice that says "You're different. You're not from here."
In some ways, the voice is right. This will never quite be home. That isn't resistance to change, or bitterness, or resignation. It's truth. And it brings some comfort.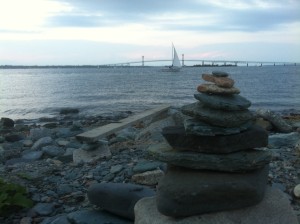 The biggest move of my husband's life was from the house he grew up in to our current apartment, eight blocks down the road. He's a New Englander through and through. The rhythm of the seasons, the cadence of the language, the pride in the land and its history are all a part of who he is, and loving him teaches me to love this place more. So in a way, with him, this is truly home.
As for me… well, I can't turn back time and grow up here. I can't transplant my family, can't rewrite history so my New Englander grandfather never married an Alabama girl and worked out his days in the orange groves of Florida. I can't, and I'd never want to. The rhythms, seasons, culture, and history of my homeland have shaped me into the person I am, and though I never fully appreciated it then, I do now, every time I catch a glimpse of palm trees outside an airplane window and relearn how to breathe the heavy tropical air.
And you know, that's okay. Home can be in two places, even many places. Home is where we first spring from seeds, and it's where we replant our roots. But we still reach for the sun, for something more, for the home still coming, someday.
*  *  *  *  *
"Where Are You From?" was written by Jen Rose Yokel. Jen was born and raised in central Florida, but now lives in the strange land of southern New England. She's a poet, a radio nerd, and a regular contributor to The Rabbit Room. When not writing, she enjoys frequenting coffee shops, hunting down used books and vinyl records, and exploring nature with her husband Chris. You can find her thoughts and poems at jenroseyokel.com and see pictures of mostly food and trees on her Instagram @jen_rose.