Home is the grit and gray of streets and parking lots and the widest freeway in the world. It's being glad for a commuter train, so you can read while you sit in traffic. It's the surprise of one of the largest urban parks in the United States, offering green respite. It's watching the trails in that park erode,  years of play degrading into memory.
In the fall, after 32-and-a-half years in my hometown, I left in a rented truck with husband, dogs, bicycles, and a few scraps more, for a 2500-mile move to the north.
Here in this place, everything is different. Things I thought I knew slipped away when I wasn't looking.
This place is beautiful. I ride my bike from the house to views that evoke the word 'pastoral': cornfields and rolling green hills and a giant, weathered white barn etched against an enormous blue sky, wrinkled mountains lining the eastern horizon.
This place is about as diverse as vanilla ice cream, and as sticky-sweet. When I travel through a nearby metropolis, I get harassed the moment I step off the train: ah, the anonymity of the city. It's not that I miss being cat-called. But in the way that a survivor of abuse places herself in abusive relationships, I suppose the familiar–even the unpleasant familiar–offers some brand of comfort. I didn't know I missed the sound of sirens til I heard one and noticed how odd it sounded.
In the winter,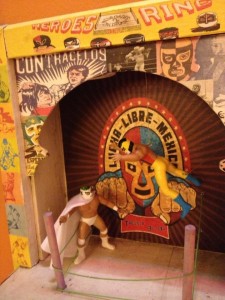 I traveled back south, to revisit places and people I know, love, and miss. Already home was a place I could not access, although I was comforted by a Southern drawl, a Cajun twang, an East Texas pacing of speech. The molasses air felt like a hug. I swallowed my pride, and told the loved ones I'd abandoned that I had not found eternal happiness in committing this crime against home.
Home is eating out: Mexican or Cajun or Greek or breakfast-all-day or Italian or Indian or Turkish or Vietnamese or sushi or Jamaican or burgers or dirt-cheap, clean, enormous oysters on the half-shell served with a smile and an ice-cold glass bottle of Tecate. Home is hearing many languages, and bilingual street signs, and the good and bad of smelling everybody else's life and toil on mass transit. Home is people smiling on the sidewalks and saying "excuse me" when you step out of their way, or "thank you" if you hold the door. It's being asked for change.
In the spring, I reversed direction, to husband and dogs in the north, entering again a vast, coldly beautiful loneliness. "What have I done?" I thought, as I climbed into our new bed in this place. "I've killed 'home' forever."

Home is not pretty. It is somber: concrete and steel, cars and smog, flatness and pavement. It is where a friend used the line, "hotter than a fresh-fucked fox in a forest fire," as we mountain biked in all seasons and the temperature hit three digits in the shade before humidity factored in. But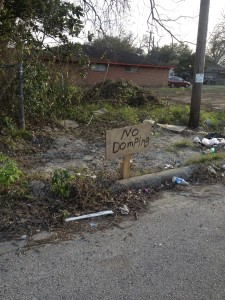 there was what I called urban scenery: railroad trestles along a bayou with a junkyard in the midground, viewed from a grassy path. Definitely a different kind of picturesque, but a memorable picture nonetheless.
In the summer, I remembered home: thick, damp, oven-like air and open, friendly faces on the street, a cacophony of smells–tortillas cooking, Indian spices, garbage, diesel fuel, body odor, stale beer–and multitude of skin tones. Memories as terribly distant as they were deeply felt. I felt tattooed by Houston, as I have been tattooed in Houston, and am tattooed with Houston's skyline and the shape of the state of Texas. I can't reach home, even when I've had the outline of it permanently inserted under my skin.
Here, the house we inhabit is imperfect, as all houses are. I have been here long enough now to mostly know which light switch does what. Knowing how to make the light shine, for eating, reading, or just dressing myself, has got to be an important step on the journey toward making a home.
It is fall again.
Julia is a book reviewer, librarian, beer drinker, dog lover, mountain biker and native Texan now residing in Bellingham, Washington. She thinks a lot about concepts of place and home. Her favorite color is green.